Episodes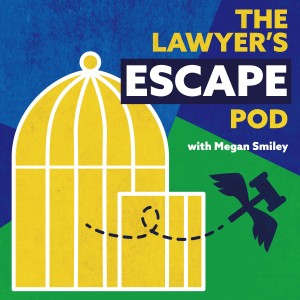 Tuesday Jun 21, 2022
Tuesday Jun 21, 2022
Kristen Gyolai is the owner of The Law Office of Kristen Gyolai & Lure of Law. She started her career at a high-volume law firm. She enjoyed the practice of law but 5 years in, she was feeling burnt out and needed a change. After considering her options, she ultimately decided to start her own law firm. That has proven to be exactly the right fit for her. She is now also the founder of Lure of Law, where she helps show other attorneys how possible it is to start their own firm.
In this episode we discuss:
Kristen realized that traditional law practice wasn't the lifestyle she wanted to live

She didn't hate practice, but hated the system

How Kristen decided to start her own firm

Running the business and doing the legal work on her own didn't worry her, but the fear of not finding clients and failing weighed heavily on her

She decided she wanted this enough to fail trying

There are some unknowns, but you can trust yourself to learn and figure things out

Kristen tells us how she found her first clients

There's a growing trend of starting solo practices
Connect with Kristen!
Kristen Gyolai Website: https://kristengyolai.com/
Lure of Law Website: https://lureoflaw.com/
Instagram: https://www.instagram.com/lureoflaw/
~
Connect with Megan!
Daydreams to Designs Private Podcast: https://bit.ly/daydreamstodesigns
Employee to Entrepreneur Quiz: https://bit.ly/employeetoentrepreneurtype
Schedule a Catalyst Call: https://megansmiley.com/schedule-a-call
Website: https://www.megansmiley.com/