Episodes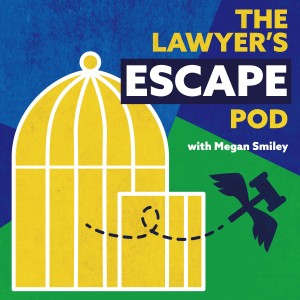 Tuesday Apr 05, 2022
Tuesday Apr 05, 2022
Elena Deutsch is the founder and CEO of WILL (Women Interested in Leaving Law). With a background in executive and leadership coaching, Elena guides women through the process of discovering what they want, leveraging their strengths, and researching inspiring new possibilities. In this episode, Elena and I dive into our shared appreciation for a heart-centered approach to career planning. For so many people, their career dissatisfaction is not simply a question of finding a new job. It's about taking a huge step back and really examining who you are and what you want.
In today's episode, we discuss:
How we define a heart-centered approach (to a job search or entrepreneurship)

How this approach leads to more alignment and purpose

Making internally informed decisions, rather than having your plans be externally dictated

How to explore your creative or off-the-beaten-path interests

How your lawyer brain gets in the way

The mindset shifts people need to make to approach their career this way

The Great Resignation 

The importance of community and support
Find Elena:
Elena's website: https://womeninterestedinleavinglaw.com/ 
Book a Consultation with Elena: https://will-online.teachable.com/a/aff_0d5ngvx3/external?affcode=97439_ds-nv8nb
Free Gift: High Five Miracle Morning Checklist
https://womeninterestedinleavinglaw.com/high-5-miracle-morning/
FREE Masterclass: How to Leave (big) Law with Ease:  https://womeninterestedinleavinglaw.com/leave-with-ease/
~
Connect with Megan!
Daydreams to Designs Private Podcast: https://bit.ly/daydreamstodesigns
Schedule a Catalyst Call: https://megansmiley.com/schedule-a-call
Website: https://www.megansmiley.com/
~
Books referenced:
William Ury, The Power of a Positive No
Elizabeth Gilbert, Big Magic