Episodes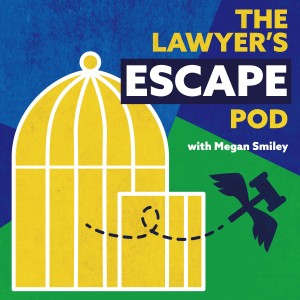 Tuesday Jul 05, 2022
Tuesday Jul 05, 2022
This week I share my thoughts on how we can buck the system and define success on our own terms. I think the new paradigm of success is centered on you being self-actualized and of true service, rather than being the best rule follower out there.
I also shared some wise, if salty, words from my mom. 
It would be her birthday today. 
I recently came across a submission she made to her alumni magazine for her 25th reunion. Parts made me cry. Parts made me smile. And parts made me think I really would have enjoyed her. At 11, she was still just "mom" - not a whole person with interesting world views…
Anyway - here she is wrapping up her entry to the alumni magazine with a mic drop challenge to traditional success:
"I suppose that in conclusion, I should mention how essential my Wellesley experience was in shaping my life. Actually, I don't think it was. I went through the four years longing to be out, and I'm sure I wasn't taking advantage of all the intellectual possibilities. But I have learned that there are a lot of smart, achieving people in the world who didn't go to Wellesley or anyplace like it and I get worn down by the self-congratulating, 'aren't we all great, we went to Wellesley' attitude that comes through so oppressively in the pages of the alumna magazine."
~
Connect with Megan!
Daydreams to Designs Private Podcast: https://bit.ly/daydreamstodesigns
Employee to Entrepreneur Quiz: https://bit.ly/employeetoentrepreneurtype
Schedule a Catalyst Call: https://megansmiley.com/schedule-a-call
Website: https://www.megansmiley.com/