Episodes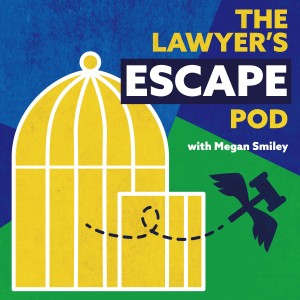 Tuesday Sep 13, 2022
Tuesday Sep 13, 2022
Melanie Lippman, a style and image coach, and I co-hosted a webinar last month called Age & Authenticity: Work, Life & Style After 40. It was such a good conversation, I wanted to share it with all of you on the podcast.
In this conversation, we discuss:
How to embrace, rather than resist, your evolution

How to connect with your personal values and desires

How to explore and experiment without judgment 

How to let go of other peoples' expectations and all the "shoulds" that weigh on you

How it's never too late to switch gears and honor your authentic self
Melanie sees this topic through the lens of personal style.
I see it with people who realize the practice of law (or traditional employment generally) isn't aligned with who they are and how they want to live their next chapter.
It's a really rich conversation that I know will resonate with so many of you.
Connect with Megan!
Daydreams to Designs Private Podcast: https://bit.ly/daydreamstodesigns
Employee to Entrepreneur Quiz: https://bit.ly/employeetoentrepreneurtype
Schedule a Catalyst Call: https://megansmiley.com/schedule-a-call
Website: https://www.megansmiley.com/
~
Connect with Melanie!
Melanie's Website: https://www.melanielippman.com/
Melanie's Facebook Group: https://www.facebook.com/groups/showupandbeseennow
Melanie's Instagram: https://www.instagram.com/melanielippman/