Episodes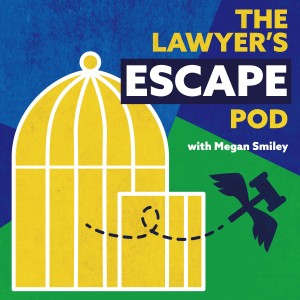 Tuesday Apr 26, 2022
Tuesday Apr 26, 2022
Erika Cole built a thriving, very specialized law practice advising churches and other faith-based organizations. After running her own firm, she merged her practice and became a partner at a larger firm. She enjoyed the work. And from the outside, all the boxes of success were checked. But, something in her told Erika that this chapter was complete. She was ready for a new challenge. And she was ready for an even greater degree of freedom and flexibility. Leveraging the specialization she'd developed, she's now serving a similar audience as she had in practice, but from a new angle. She runs a conference, hosts the Church Law podcast, and has launched a 6-week course for burned-out pastors.
I had the pleasure of having Erika in a program I ran last summer, and seeing the leap she's made in less than a year is really inspiring. Not surprising to me (as you'll hear), but definitely inspiring. 
For anyone questioning whether you're too deep into practice to leave now, or if there's really time for a second act - this episode is for you.
Connect with Erika:
Website: https://www.erikacole.com/
~
Connect with Megan!
Daydreams to Designs Private Podcast: https://bit.ly/daydreamstodesigns
Schedule a Catalyst Call: https://megansmiley.com/schedule-a-call
Website: https://www.megansmiley.com/