Episodes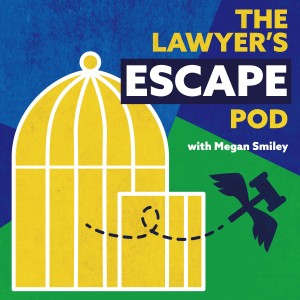 Tuesday May 24, 2022
Tuesday May 24, 2022
Mary Adkins is a former BigLaw litigator turned writer. She is author of the novels When You Read This (Indie Next Pick, "Best Book of 2019" by Good Housekeeping and Real Simple), Privilege (Today.com "Best Summer Read," New York Post "Best Book of the Week"), and Palm Beach (recently named one of the New York Post's "Best Books of 2021"). Her books have been published in 13 countries, and her essays and reporting have appeared in the New York Times, The Atlantic, Slate, and more. She is also a writing coach and founder of The Book Incubator, a 12-month program to write, revise, and pitch your novel or memoir. 
In this episode, we discuss:
Getting into law to make a positive impact, but then taking a BigLaw job

Feeling misaligned with your work, and coming to not care about it at all

Prioritizing taking writing classes even with a crazy schedule

Taking a bridge job to allow the time and space to pursue more writing

Realizing that a lot of the roadblocks to making a change aren't as immovable as we tell ourselves they are

How to build a writing career

How the Enneagram plays out for lawyers and writers 
Connect with Mary:
Website: https://maryadkinswriter.com/
Apply to The Book Incubator: https://www.thebookincubator.com/apply-novel-writing-program
Instagram: https://www.instagram.com/adkinsmary/
~
Connect with Megan!
Daydreams to Designs Private Podcast: https://bit.ly/daydreamstodesigns
Employee to Entrepreneur Quiz: https://bit.ly/employeetoentrepreneurtype
Schedule a Catalyst Call: https://megansmiley.com/schedule-a-call
Website: https://www.megansmiley.com/